A Biblical story narrated from the point-of-view of a non-believer, Risen is the story of the Roman centurion who was sent by the Roman general Pontius to retrieve the body of Yeshua or Jesus of Nazareth after his crucifixion. 
The motion picture, which released in theatres on February 19, is composed on account of a doubter's perspective. All things considered, the film's principle character, Clavius—played by Joseph Fiennes—is an agnostic Roman officer, who is accompanied by Lucius, his apprentice on a mission to find the Messiah's body.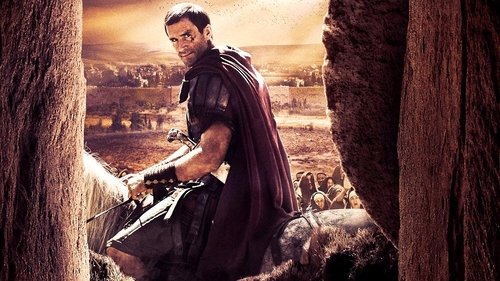 The Cast
He and his companion, Lucius—played by Harry Potter star Tom Felton—are tasked with negating claims that Jesus Christ has become alive once again. Clavius, played by Joseph Fiennes, is out to look for the missing body of Yeshua, played by Cliff Curtis, which is supposedly in the possession of his followers. Amidst electrifying tension, Clavius must find the body after hearing rumours about his resurrection, in order to thwart an uprising in Jerusalem. But he does he find the body? If you remember your history classes, you would know that Yeshua had already risen. 
The cast is on-fleek, with Peter Firth playing the ambitious Roman general Pontius Pilate, who had sent Clavius out on this unnerving mission in the first place. The resemblance between the textbook illustrations of Pontius Pilate and Firth is uncanny and funny. Brownie points to the casting team!
The movie gives us a fresh take on one of the most narrated bedtime and Sunday school stories, with Clavius and Lucius (Tom Felton) travelling and 'Slytherin' through the desert wastelands (see what I did there?), looking for the body that did not even exist on that plane anymore. Eight Harry Potter movies later, it is impossible to Tom Felton as anything other than the evil and conniving Draco Malfoy. Despite our major, funny little prejudices, Tom Felton does an amazing job and you almost do not feel like you are watching yet another Harry Potter movie. Whew. Although it is interesting to note that Felton's character is called Lucius. This was also the name of Draco's father in Harry Potter. Felton has also worked with Joseph Fiennes's brother Ralph Fiennes who played Lord Voldemort in the Harry Potter movies. Talk about coincidences! Felton keeps things hot and happy on screen with his frequent and on-going appearances throughout the movie. He has been in the news for behind-the-screen stories of the movie. With a glorious tan and messy swept-back hair, on the horseback in leather armour with an equally dashing Joseph Fiennes, Felton looks amazing in the behind the screen clippings. 
Tom Felton has recently been in the news for going around the town in his new Lamborghini. His love the Italian brand is quite well-known, with him owning a couple of them. He was spotted with his long time beau, Olivia Jade, whom he had met on the sets of Harry Potter. Interestingly, Olivia Jade played Felton's on-screen wife. Rumours are around regarding the both of them tying the knot pretty soon. 
Joseph Fiennes has been getting his fair share of news coverage, doused in controversies as well. He is known for his depictions of William Shakespeare in Shakespeare in Love (1998), for which he is awarded the BAFTA Award for Best Actor in a Leading Role and the Screen Actors Guild Award for Outstanding Performance by a Male Actor in a Leading Role, Sir Robert Dudley in Elizabeth (1998), Commisar Danilov in Enemy at the Gates (2001), and for featuring as Monsignor Timothy Howard in the second season of the popular television serial American Horror Story (2012-2013). He was recently cast to play Michael Jackson in an upcoming comedy movie. There has been massive online protest and furore over casting a white British actor for playing the role of the legendary Black American rock star, but Fiennes is up for a challenge. Coming close to his brother, Ralph Fiennes in measures of acting prowess, Joseph Fiennes says that he has no doubts or qualms about playing the role in the upcoming satire comedy which is said to be made and released within the next year. 
Trivia
While this movie has taken every possible step to be politically correct, it is being celebrated as one of the first movies to cast a non-caucasian person as Jesus. Finally! About time! It only makes sense though- Jesus was never white. He was born in west Asia. He stayed there all his life. He died there. He had risen there. Ever seen a white west Asian? No? Me neither. 
The casting team additionally tries to be ethnically exact. The Romans are all played by white European performers, yet the Jewish characters are played by Israeli on-screen characters or on-screen characters who can without much of a stretch go for Israeli or Middle Eastern.
Cliff Curtis does a commendable job as Jesus. With the recent surveys about Hollywood being white-centric and not having enough actors of other racial origins, Curtis, a Maori from New Zealand, brings a fresh change in faces and adds a much-needed splash of diversity to Hollywood. Cliff Curtis is celebrated for taking on roles of people from all sorts of ethnicities; the feathers in his hat are countless! He has played just about every brown-skinned ethnicity in Hollywood; African-American, Arab and even Indian and South American. He was quoted saying that he always takes the responsibility of playing another ethnicity very seriously as he needs to adequately and accurately represent the people of that ethnicity. He feels it is his responsibility to give the people the respect and dignity they deserve and not culturally appropriate their ethnicity.
He's acted in the popular television series The Walking Dead. He has even played a fire lord in Avatar: The Last Airbender. Oh boy!
Talking about diversity, this movie has quite a diverse cast. The role of Judah is played by celebrated Lebanese star Karim Saleh who looks quite laudable on-screen. Mary Magdalene is played by Argentinian beauty Maria Botto, along with scores of other actors from many diverse backgrounds.

Promotions and Cast-sightings
Cliff Curtis (playing Yeshua) has been quite in the because of his ethnicity, with people applauding the casting team yet again for their flawless casting of Curtis as Jesus. Curtis was born a catholic, attended church regularly, carried a crucifix at all times as a boy. According to him, he always wanted to play the role of Jesus but joked that he could not probably ever do that because he didn't have blond hair or blue eyes, mocking the western portrayal of Jesus in popular media. This movie helped him form a new relationship with Jesus on a personal level, he said. He took his family with him to the film's three months of location shoots in Malta and Spain (which stood in for the Galilean desert), but he isolated himself from them for a month, putting all his attention into the movie.
Maria Botto, who plays a strong role as Mary Magdalene, has been attracting hoards of appreciation from around the world and from her home country of Argentina. During the promotional event, Maria Botto cut a coquettish figure as she went to a photocall for the film in Rome, Italy.
The Argentinian performer slipped into a white trim semi-sheer dress for the limited time appearance which was additionally gone to by her dashing co-star Joseph Fiennes. 
Maria, 41, looked beautiful in her delicate gossamer gown which contained a white underlay and a sewed top layer. The film and TV star balanced the one-piece with a couple of highly contrasting checkered heeled courts with platform heels. Maria kept her make-up to a base and coiffed her pretty brunette hair into a thick fishtail plait with the front segments formed into a slender crown.
Along with Maria, Joseph, 45, looked especially smart in a dark two-piece suit which he dressed-down with a white shirt worn underneath it.
He played the ideal man as he put his arm around his co-star as they posed for pictures before the excellent scenery. Additionally, along with them were the film's producers, Pete Shilaimon and Mickey Liddell.
Tom Felton in a behind the scenes interview, admitted that the movie is really close to his heart. He said that he was drawn to the project not solely because of the character but the story and the nature of the story it was being told in. He loved how it was being told from a completely different and fresh perspective, which he had never read or even thought of before this. 
Critical review
This movie has stayed faithful to the original Bible story, unlike most other Biblical reproductions on the silver screen. It's a proper faith-based drama, with a PG-13 rating, including mild violence, crucifixion and disturbing images. The behind the screen clippings show how gruelling and tough preparing the whole set was, to set up the props in the open desert, to set up the crucifix, to arrange the background actors and the camels and the horses- it was quite a challenge! "It was a moving journey to go on," Joseph Fiennes said. "What I love is the sense of the crumbling of a man's conditioning and him getting to a place where he can take on another philosophy."
The King of Kings, The Greatest Story Ever Told and The Passion of the Christ are exemplary movies giving the scriptural record of Jesus' life and are now the Christian family's Sunday morning favourites. 
Presently, Risen would like to join that rundown—however, this time, concentrating basically on the days after Christ was executed and the people who questioned it. 
The Story
Joseph Fiennes plays Clavius, the Tribune under Roman senator Pontius Pilate. After coming back from a fight, where Clavius murdered Barabbas – as of late discharged from a Roman jail – Pilate advises Clavius that he should manage the execution of a Jewish man who was rumoured to be the Hebrew Messiah.
The Nazarene is crucified and his body is taken away and put in a tomb. The tomb is sealed and the guards are placed, but that doesn't matter because on Sunday morning the seal is broken, the tomb opened, and the guards are missing. 
Clavius, along with Lucius, now sets off on – according to the film's tagline – "The manhunt that changed the course of human events."
Director's take
Kevin Reynolds has directed and composed the screenplay for Risen. Kevin additionally composed the mainstream 80s motion picture Red Dawn, and has coordinated hits, for example, Robin Hood: Prince Of Thieves, Waterworld and The Count Of Monte Cristo. Moreover, Steven Mirkovich will help with altering - the same Editor who picked up approval for his work on The Passion Of The Christ. In this way, you can be guaranteed that the true to life nature of this creation is of a great quality.
Since Hollywood has verifiably evaded religious movies, religious films have succumbed to a lamentable generalisation of being, for the most part low-budget, with average acting and poor creation quality. In any case, that absolutely can't be said in regards to Risen, which is being advanced as a continuation of the foundation laid by Mel Gibson's Passion Of The Christ - the top-grossing Christian film ever.
Subsequent to the arrival of The Passion, religious movies have been turning out from Hollywood at an expanded rate. From one perspective, religious movies are regularly mushy and impossible. Then again, numerous lose the soul of the original story and are totally wrong. Kevin Reynolds was supposed to direct a resurrection-themed movie and the idea was in talks since 2013. The movie finally materialised and resulted in this wonderful piece.
Conclusion
To sum it up, Risen is a really fresh movie, which is similar but yet different from its predecessor Biblical movies. Most stories about Jesus are either told from his point of view, or from a disciple's or an on-looker's point of view. It was the first time that the story was told from the viewpoint of someone who was a non-believer, the Roman general who did not see Yeshua as any Messiah but just another convict who was to be executed. Duty bound, he sets out along with Lucius to find Yeshua's body and this takes him out on an adventure of a lifetime.