The third and last installment of the "Fifty Shades of Grey" trilogy, "Fifty Shades Freed", is coming out in February of 2018. What fans can expect is a great and accurate telling of the book, written by author E.L. James, just like they have been given in the past two movies.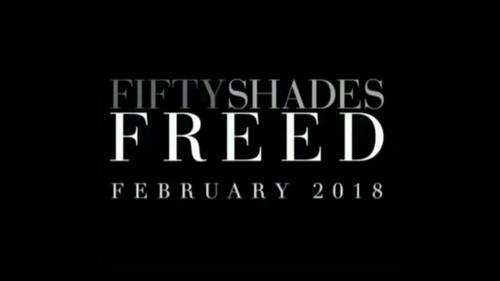 Cast 
Returning are Dakota Johnson (Anastasia Steele) and Jamie Dornan (Christian Grey). Fans have grown madly in love with these actors and their portrayal of these beloved characters. To think that neither Dakota or Christian were first picked for these roles. Other actors that were considered for the roles were Charlie Hunnam ("Sons of Anarchy"), who was actually cast and ended up dropping out, Shailene Woodley ("The Divergent Series"), Ian Somerhalder ("Vampire Diaries"), and Alexis Bledel ("Gilmore Girls"). There was a lot of talk and controversy during the casting period at the very beginning when it was announced the "Fifty Shades of Grey" books, which sold almost $1 billion, were going to be adapted into a film. Fans of the books had a lot of opinions about who should and should not be cast, but ultimately "Fifty Shades" fans will agree that the final picks were a great choice. Dakota and Jamie have done justice to the characters were grew to love and or hate in the books, and they brought them to life just as many fans imagined when reading the books. At this point, no one could have done a better a job than them, author E.L. James agrees.
Playing a substantial role in this movie is also Eric Johnson (Jack Hyde). Featured in the second film, Fifty Shades Darker, Jack played the role of Ana's boss. He crossed the line with Ana and lost his job when Christian bought out the company SIP where Ana works. In this third and last movie, Jack is angry and seeking revenge on Ana and Christian. He creates a lot of the drama seen in this film and does a good job at it.
Also playing noticeable roles are Max Martini (Jason Taylor) as head of Christian's security team and Brant Daugherty (Luke Sawyer) as the bodyguard Christian puts in charge of Ana's protection. We all know how controlling Mr. Grey is and how much he cares about protecting defenseless Ana.
Other characters we will see again are Christians adopted siblings, Rita Ora (Mia Grey), who made her film debut in the first installment, "Fifty Shades of Grey" and Luke Grimes (Elliot Grey). Luke ends up engaged to Kate Kavanagh (Eloise Mumford), Ana's best friend. Still creating trouble is Kim Basinger (Mrs. Robinson, Elena Lincoln) who teams up with Jack to create trouble for our loving couple. Christian's and Ana's parents also make a return appearance in this last movie.
Plot 
Picking up where "Fifty Shades Darker" left off, Christian and Ana are now engaged. There is a wedding and a European honeymoon. Christian tells Ana he wants her to run the company SIP. Things begin to get a little tricky for the Greys once Ana finds out she is pregnant since Christian does not respond well to the new. He is actually jealous of the baby, fearing that the baby will take all of Ana's attention. The drama really intensifies when Jack breaks into their home hoping to kidnap Ana. His attempt is a fail, but he later succeeds in kidnapping Mia Grey with the help of Mrs. Robinson. Jack demands a hefty ransom from Ana for Mia's safe return and in not wanting to involve Christian in this ordeal, things take a twist where Christian thinks Ana is leaving him for good. Ultimately, Ana shoes that she can handle herself, taking Jack down and sending him to prison. There are other juicy revelations that take place in this last movie. In the end, our beloved characters get the happy ending they deserve. Ana and Christian are able to create a family and enjoy their love.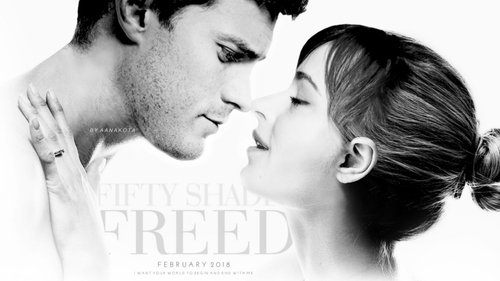 Of course, throughout the movie, fans will get to experience the sexy and scandalous lovemaking scenes "Fifty Shades" is known for. Christian's control issues are still a problem at the beginning and Ana learns that she has a jealous side. In the end, both characters find the best versions of themselves as the trilogy comes to a conclusion. Like times before, fans will not be disappointed.
The director for this "Fifty Shades Darker" was James Foley. He also directed "Fifty Shades Darker", the second movie, and he shot both of these movies simultaneously. Because they were back to back, fans will get to experience a consistent feeling in both movies and consistency in the storyline. Foley took over for Sam Taylor-Johnson, who directed the first movie "Fifty Shades of Grey". The screenplay for "Fifty Shades Darker" was written by Niall Leonard. As in the previous movies, author E.L. James is a producer in the films. Her unique input is part of what has made the movies great for fans.
The "Fifty Shades of Grey" movie grossed over $40 million in the opening week. "Fifty Shades Darker" grossed about $48 million in the opening week. The same amount, if not more is expected to be grossed opening week for the last installment, "Fifty Shades Freed". Each of the previous movies grossed over $150 million dollars in the US.
Dakota and Jamie reportedly made $250,000 per film, plus bonuses which is not as impressive amount as some may think, but these films arguably made of booted each of their careers.
"Fifty Shades Freed" was filmed in Paris and Vancouver. Although this film has kept anxious fans waiting, just as the second installment did, this movie wraps up E.L. James controversial book series in a way fans will truly appreciate.
If you are a fan of the books and have enjoyed the first two "Fifty Shades" film adaptations, you will surely enjoy this last one. Even fans that were skeptical at first grew to love every bit if the trilogy. The only thing to be sad about is that this is the end of the story of Ana and Christian, a story that captivated readers and viewers alike, raised a lot of eyebrows and questions about kinky behavior. "Fifty Shades of Grey" has been able to create a cult following like not many other movies have been able to do.