If the excitement and buzz preceding the release of Rogue One is anything to go by, the Star Wars movie is going to be a tentpole. There's slightly less than one month to go before Disney officially airs its new film Rogue One, better known as 'Rogue One: A Star Wars Story'.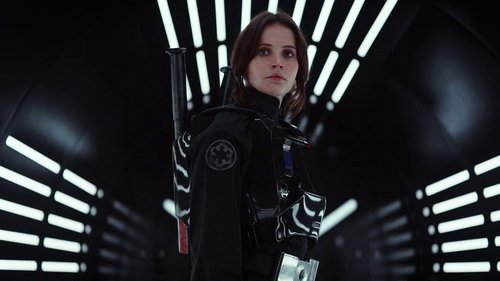 Tatiana Maslany, Rooney Mara and Kate Mara auditioned for the female lead role of Jyn Erso, which went to Felicity Jones
New TV spot and novel sparking more interest in Rogue One
Movie enthusiasts have been excited ever since they learned that Disney was working on a new Star Wars installment. However, this excitement has never come close to anything that has been witnessed the past one week. Why is this so? It simply because the film's production company Lucasfilm has released a sizzling new TV spot and a book explaining 'Star Wars: Rogue One' details known as Catalyst.
This film is set before the events of 'Star Wars: Episode IV - A New Hope' (1977) and five years after 'Star Wars Rebels' (2014). Also is the first installment in the 'Star Wars: Anthology' series
Catalyst
The catalyst is just as its name suggests, it's a catalyst to the anticipation of Rogue One release. The catalyst is a prequel novel to Rogue One. For movie lovers who have been patient enough to go through its pages, Catalyst is packed with a lot of information pertaining to the new Star Wars film's plot. Catalyst mainly explores the working relationship between film characters Galen Erso and Orson Krennic. Erso is Jyn Erso ,Felicity Jones's father. He is a Pacific scientist who has crucial knowledge and expertise needed for building the Death Star, that is the Empire's ultimate weapon of destruction. Krennic on his part is a director for the Imperial military's weapon research department who is seeking to bring the construction of Death Star weapon into completion.
In the story, Krennic imprisons Jyn's father and mother and Saw Gerrera (Forest Whitaker) helps to free them. Gerrera is a former guerilla fighter who believes in using all possible violence against the Empire. The novel Catalyst also gives a hint that Gerrera could have played a part in raising Jyn up and training to be the fearless rebel leader she has become in her adulthood. It remains to see how true all these details are when the live action film finally hits the theaters December.
Latest TV spot
In addition to the several trailers and spots it has aired before, Lucasfilm has released another sensational TV spot yet again. The newest spot shows Jyn Erso (Felicity Jones) asking her group of rebels whether they are ready to fight. As if they had been waiting to take a cue from her words, the entire group suddenly begins to suits up in readiness for battle against the Empire. It is a thrilling sight to watch especially for viewers who live and breathe for power packed action movies.
The new spot also reemphasizes the fact that Rogue One is a space opera war drama. It shows battle scenes on Jedha and Scarif.
PG 13 rating
Another key detailed to be glimpsed from the latest TV spot is that Rogue One will have a program rating of PG 13. Rogue is the third film in the Star Wars franchise to ever have such a rating. The other two films are 'Star Wars: Episode III - Revenge of the Sith' and 'Star Wars: The Force Awakens'.
The reason cited for the PG 13 rating is that the movie has recurring scenes of sci-fi violence and fight. Director Gareth Edwards had intended for Rogue One to have a darker tone and outstanding aesthetics from the start. Even though the tone and aesthetics of the movie were downed a bit in the process of reshoots, it still largely remains a dark movie. It is arguably the most adventurous and daring shooting trip Lucasfilm has ever made to its Star Wars galaxy or universe as it is also referred to.
Filming of 'Star Wars Anthology: Rogue One' reportedly started on July 1, 2015 at Pinewood Studios, London and Filmed with digital Arri Alexa 65 cameras using Ultra Panavision 70 lenses
'Star Wars: Rogue One' plot
'Stars Wars: Rogue One' is the first standalone film in the Star Wars franchise. It is also the first film in the franchise where human characters will go into live action against screen foes as opposed to Droid or humanoid character going to war on their behalf. Another interesting thing about the upcoming movie is that it sees the return of the Darth Vader character. Vader is an integral character who featured in the first three Star Wars films and influenced their plot to a large extent. He is a former Jedi Knight who later became Lord Sith and served the Galactic Empire.
'Star Wars: Rogue One'  cast Left to Right: Actors Riz Ahmed, Diego Luna, Felicity Jones, Jiang Wen and Donnie Yen.
Photo Credit: Jonathan Olley
In terms of plot, 'Star Wars: Rogue' is simply a story of Jyn Erso, a woman who has fallen victim to her parents being imprisoned by the Galactic Empire, organizing and leading a rebellion against this very empire. Erso leads the Rebel Alliance on a mission to steal plans for the Death Star, this is the Empire's biggest weapon of destruction.
'Star Wars: Rogue One' cast
Felicity Jones leads the pack in this upcoming space opera drama. She stars as the lead figures who gathers all other similar minded individuals to stage a rebellion against the Galactic Empire. Jones works closely with Diego Luna who acts as her Rebel Alliance's chief intelligence officer. Jones and Luna work parallel to Animal Kingdom actor Ben Mendelsohn. Mendelsohn is the Imperial weapons officer who is eager to see Death Star come to completion.
Also on Rogue One set are Maks Mikkelsen who acts as Jyn's father and Saw Gerrera who features as her aid in various scenes. Other casts are Riz Ahmed, Jiang Wen, Alan Tudyk, Donnie Yen, Valene Kane, Nick Kellington, Alistair Petrie, Eunice Olumide, Warwick Davis, Fares Fares, Liam Johnson, Ram Bergman, and Jonathan Aris.
It is also being said that Jimmy Smits and Genevieve O'Reilly will be taking back their roles as Bail Organa and Mon Mothma respectively. It is also said that James Earl Jones will be making a return to his old Darth Vader role and that Spencer Wilding may be among those playing the physical Darth Vader character.
There is rumors that Darth Vader will appear in the film
'Star Wars: Rogue One' crew
Gareth Edwards has again played the role he was born to play, creating engaging movies out of scripts and storylines. This time round, he has worked with a script provided by John Knoll. Here is the moviemaker's entire team:
Director: Gareth Edwards
Producers: Kathleen Kennedy, Simon Emanuel, and Alison Shearmur
Screenplay: Tony Gilroy and Chris Weitz
Scriptwriting: John Knoll and Gary Whitta
Cinematography: Greig Fraiser
Editor: Jabez Olssen
Music: Michael Giacchino
The upcoming film has been produced by George Lucas -Lucasfilm- and will be distributed by Walt Disney Studios Motion Pictures.
'Rogue One: A Star Wars Story' will be released in the UK on December 15, 2017 and in the United States on December 16, 2017